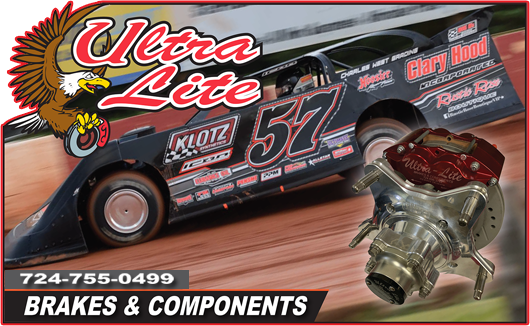 Ultra Lite Brakes is located in beautiful Mt. Pleasant, Pennsylvania at the base of the Laurel Highlands, Ultra Lite Brakes was founded 30 years ago by Jerry Martino. With a strong desire to build the Lightest Brakes in the World, Jerry began testing on his own race chassis. Nose to the grindstone efforts have paid off and the results can now benefit all.
Made right here in our US factory, still under the guiding hands of the original owner, ULBrakes strives to hold the title as the Lightest, Safest and Strongest Brakes available to the racing community. Our passion to build far exceeds our marketing ability, keeping us a well kept secret.
We'll, the Eagle has Landed my friends… and it is my goal to get the word out! My name is Chris Boucher and my position at ULBrakes is to help you realize just how special our products are. This year we have partnered with some of the greatest names in the race industry.
Look for us at an upcoming major events but don't be surprised if we show up at a nightly show at your local speedway.
Please share your Bios with us and let us know how Ultra Lite Brakes has joined you in the winner circle! cboucher@bushasdesigns.com


Ultra Lite Brakes
1378 Old State Rt 119
Mt. Pleasant, Pennsylvania 15666